Thursday, August 28, 2014
Mung Bean celebrates 40 years
Mung Bean is celebrating its 40th year owned and operated by the brother and sister team of Steven Madden and Susan Madden Billings. In the spring of 1974, nineteen-year-old Sue and sixteen-year-old Steve opened their craft shop in the small rural Maine town of Coopers Mills. They were energetic teenagers with the idea of promoting the work of Maine craftspeople.
They had no experience in retail and no financial backing, just youthful idealism and a willingness to work diligently to succeed in their new endeavor. They chose the name "Mung Bean" because it sounded "cool!" and, as new vegetarians, they were actually sprouting tiny mung beans.
In 1977, Steve and Sue moved their shop to its present location at 37 Townsend Ave. in downtown Boothbay Harbor. It has been the perfect spot for Mung Bean to grow and thrive into a successful business. In 1994 they had the good fortune and opportunity to purchase the building. This allowed them to utilize the entire first floor for the shop and Steve enjoyed designing and building all the display units!
Just as the name 'Mung Bean' is unusual and memorable, the shopping experience at Mung Bean is unique and unforgettable. The shopper can meander leisurely through and explore several rooms and many delightful nooks and crannies. The shop proudly carries only American-made crafts with its focus on the works of Maine and New England craftspeople. Sue and Steve always choose the items for the store with "high quality" and "good design" in mind. The extensive variety of merchandise at Mung Bean is comprised of the works of over 300 American artisans. The many choices, from the functional to the whimsical, include pottery, jewelry, wooden toys and games, T-shirts, metal works, woodenware, ornaments, cards, and Maine preserves.
Sue and Steve put much time and effort into researching merchandise for their store. Year after year, the Mung Bean customer can always find something tried and true or something brand new and different. Perhaps the most memorable work displayed at Mung Bean is the amazing selection of the finest quality hand-enameled wall sculptures. Customers come in year after year to see the new designs in brilliant butterfly, bird, and floral motifs and to add to their collections. Two of the favorites of the many safe and lasting toys offered at the shop are the brightly colored animal coin banks and the magnetic letter name trains.
Steve and Sue value the many relationships that have been created and maintained through Mung Bean over the past 40 years. A few of the craftspeople from that very first summer in 1974 still supply the shop with their wares! The wonderful employees who have worked with them for many years are truly 'family'! And of course Mung Bean would not be the special place that it is without the local customers and those visiting every summer.
Sue and Steve especially value the praise they receive for carrying only items made in America! Because 40 years later they still feel that promoting American craftspeople is very important and even more appreciated today!
Sue and Steve were born and raised in Jefferson, Maine. Sue lives in Nobleboro with her 17 year old daughter who is a senior at Lincoln Academy and planning for college. Steve lives in Boothbay Harbor above the shop, and when not working, spends as much time as possible at the family cottage in Jefferson.

Mung Bean is open year round and seven days a week May-December. In July and August the store's hours are 9:00 a.m. to 9:30 p.m. You can have your purchases shipped home for you if you are traveling.
Show More...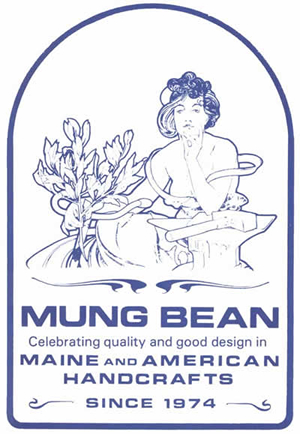 Promotes Maine and American handcrafts
Featuring:
Pottery • Jewelry • Hand-screened T-Shirts • Wood Carvings

Holiday Collectibles and Ornaments • Toys • Metalwork

Woodenware • Maine Preserves • and much more!
Mung Bean is open Year Round and evenings in July and August.
37 Townsend Ave., P.O. Box 612, Boothbay Harbor, Maine 04538
Phone no. 207-633-5512 Shipping available